TI-Chips' Online
---
TI-CHIPS: Meeting Minutes December 2003
---
The December meeting / Christmas party was opened with the reading of the November minutes. Lin Shaw gave his Treasurer's report. Lin stated that the closing balance for 2004 was within $10 of the closing balance for 2003. (Talk about fiscal stability!) John Parken reported that our membership is still at a stable 22 members. I reported that, if all goes well, our membership might increase by one in January.
Les Kee reported that there was no activity in the club's software library. However, Craig Getty, the present Web Master of our Web Site, gave Les a CD containing the most recent backup of our site. Craig confirmed the news that he has been transferred to Dearborn, Michigan, and he will no longer be able to maintain our Web Site. Les Kee said he thought his son would still be interested in taking over Web Master duties for us. At this, we all wished Craig success in his new assignment. We also expressed our gratitude for his dedicated, expert efforts on our behalf. Craig provided the TI-Chips with a Web site that has done us proud. Fred Ialacci led a round of applause for Craig.
Craig provided an answer to a question I had regarding opening a web page with sound (music). Craig explained that WAV sound files are treated much like JPG and GIF picture / graphic files. The file is embedded in the page and is opened when the web page is opened. In the case of a sound / music WAV file, the visitor can be enabled to sop the playing of the WAV file. However, Craig explained that a WAV or graphic file cannot be called-up (embedded) instantaneously by the visitor. The file must be uploaded before it is opened, and this would take a finite amount of time. (Some files will require a very long time to upload.) Thank you Craig. I'll be passing this information along.
The Jim Peterson Achievement Awards were discussed in detail. It was recommended that the Jim Peterson Achievement Awards be changed, starting with the 2005 awards, to have only TWO categories. Those categories would be "TI-99/4A COMMUNITY SERVICE" and "MYARC 'GENEVE' 9640". A motion for this change was made and unanimously approved. It must be noted that this change does not affect the 2004 awards.
This was also a very special occasion in that we celebrated the 20th anniversary of the TI-Chips. We first met at the same time and in the same room of the North Royalton branch library twenty years ago on December 17th. To commemorate this occasion, I brought in the newsletters from 1983 through 1987. (A lot of TI-99/4A history has gone bye in the last twenty years, and the TI-Chips is proud to be able to say we have survived all the changes that have taken place in the world of home computing. Friendships through sharing can last a very long time.)
John Parken and I brought in VCR tapes from the Lima and Cleveland MUG conferences. However, I also brought in my laptop with Cory Burr's Win994a installed, and this TI-99/4A simulator, which operates in Microsoft's Windows OS, drew the attention of Chips members. (See the pictures below.) It was explained that this program, and it's huge TI-99/4A cartridge library, is available for downloading through Rich Polivka's web site.
There was no raffle drawing. Therefore the next meeting of the TI-Chips was announced (January 17, in the Storytime meeting room of the North Royalton branch library from 10:00 AM 'til noon) and the floor was opened to visiting, reminiscing and general holiday partying. (A party tray of goodies was made and presented to the library staff.)
*Click on the pictures for a larger image.*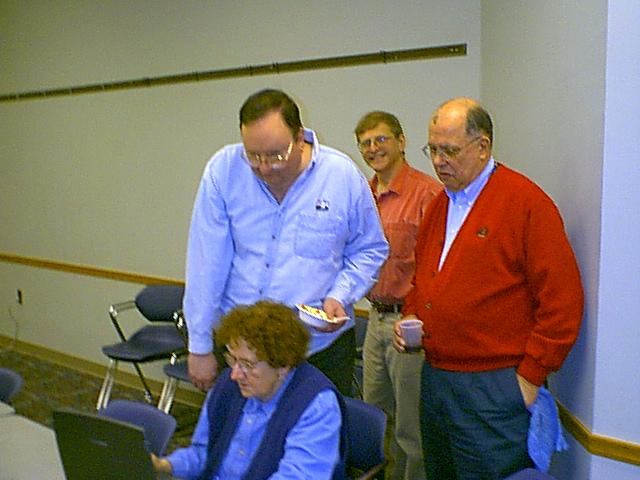 Craig Getty, Lucille Mayer, John Parken
and Fred Ialacci enjoying
Cory Burr's 'Win994a' on my laptop.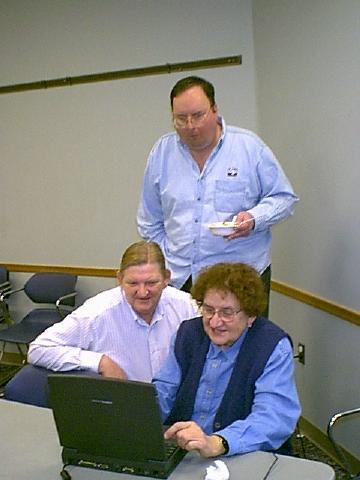 Ron Markus (Ramcharged Computers)
joined Craig and Lucille in the fun.
---
Newsletter Contact Information
Harry Hoffman
Telephone - 216.631.2354
Postal address - 3925 Trowbridge Avenue, Cleveland, OH 44109
E-mail - harryhoffy@core.com

Copyright © 1998-2003 Harry Hoffman ALL RIGHTS RESERVED.